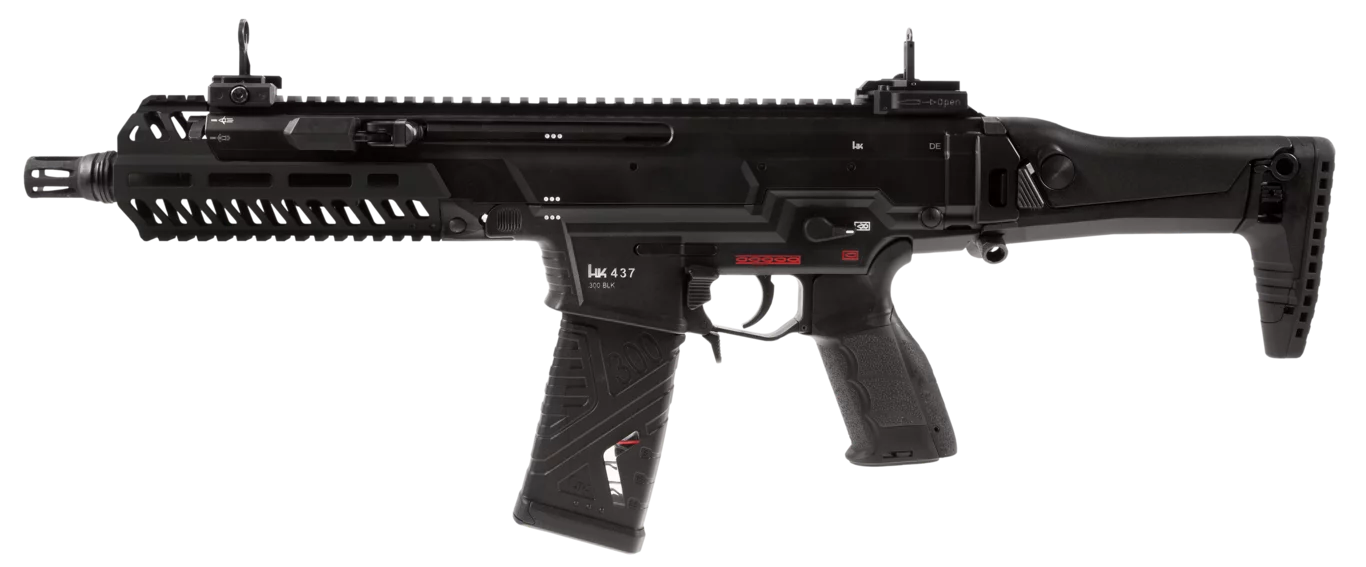 HK437
Maximum power in submachine gun size
The best technology
Heckler & Koch for Military & Law Enforcement
HK437
Convincing argument with a penetrating effect
Speaks fluently supersonic and subsonic - also at the same time.
The HK437 is available in 7 and 9 inch barrel lengths. With the appropriate gas adjustment, the HK437 can fire both supersonic and subsonic ammunition in mixed mode. The weapon shares the operating concept of the HK433. There is a choice of the push-button operating mode for users trained on HK416/AR-15 systems as well as paddle operating for trained G36/MP5 users.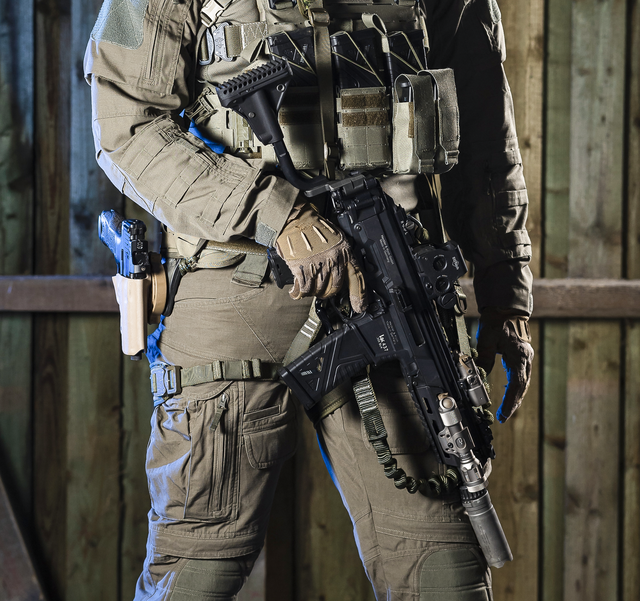 HK437 - Maximum power in submachine gun size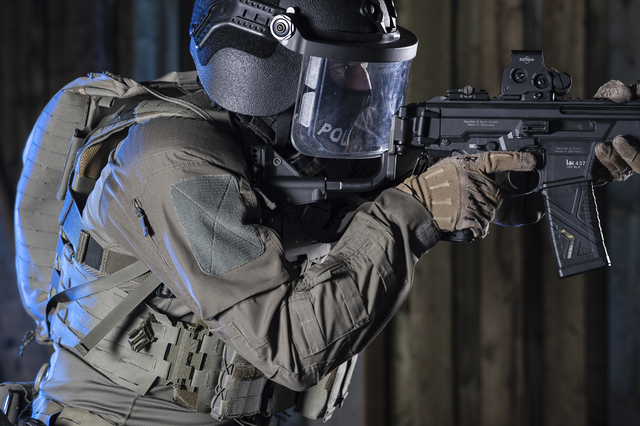 Modular in application
For situation-oriented threat scenarios using ballistic protective helmets, we offer two other buttstock options. The first is our tactical helmet buttstock for use with ballistic helmets with a short protective visor. It features a detachable and height-adjustable cheek rest, and is also length-adjustable. It can be folded down to the right against the receiver as required. The second option is our dedicated helmet buttstock. It is geometrically designed for protective helmets that are equipped with a long protective visor. The helmet buttstock is also length-adjustable, but as a special feature, it can also be folded to the left or to the right. In this case, its end position is below the receiver. Pistol grip and trigger remain within easy reach.
Technical specifications
Precision at a glance.
Caliber
300 BLK (7.62 mm x 35)
Operating principle
indirect gas-operated – short stroke piston
Bolt system
Locked rotating bolt head
Modes of fire
Single fire or single fire / sustained fire
Rate of fire
850 rounds/min
Barrel profile/Twist
Groove/land profile with 4 grooves, 8"/203 mm right-hand twist
Magazine capacity
10 / 20 / 30 rounds
Safety/fire selector lever travel
45°
Values rounded. Dimensions and weights may vary depending on the configuration. Subject to technical changes.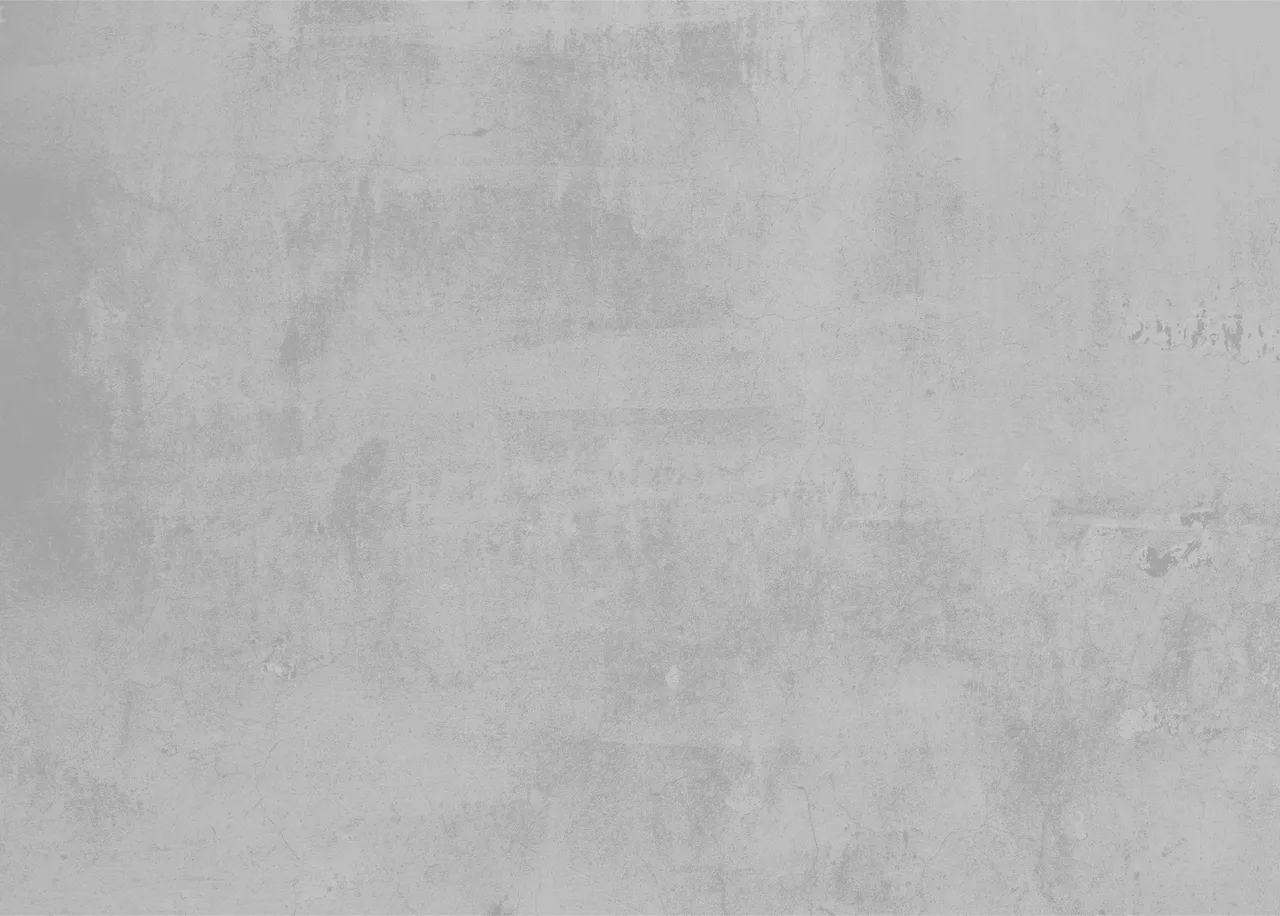 Suitable
For any mission requirement. The variants of the HK437 product family.
Made for Safety
We want people to be able to live safely. Our products are designed to protect people in free democratic countries from threats and violence. Heckler & Koch is the leading manufacturer of small arms for NATO and EU countries.