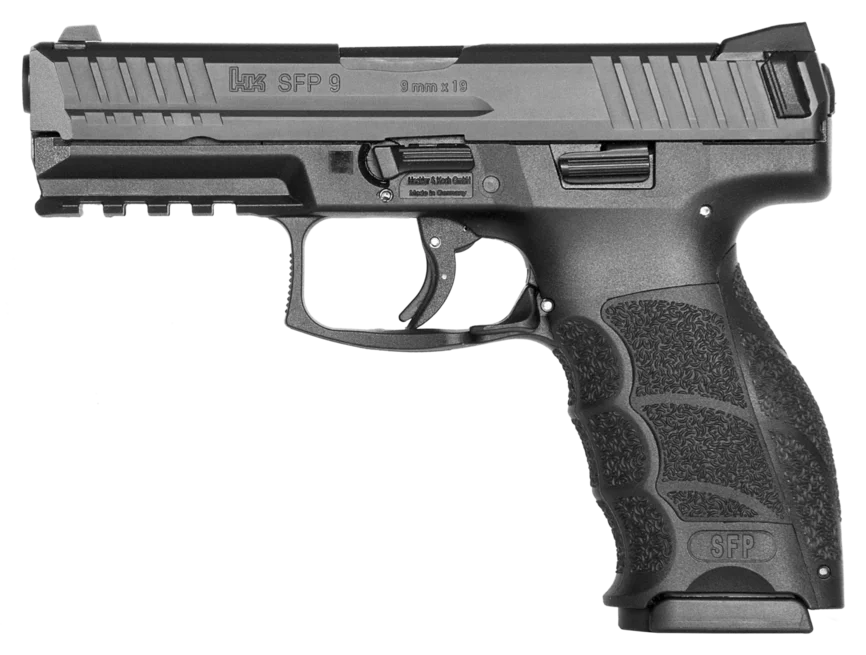 SFP9
Unique. Versatile. Individual.
The best technology
Heckler & Koch for Military & Law Enforcement
Magazine capacity 15 rounds
SFP9
Wide range of applications, full flexibility
More safety. Less risk
The trigger, firing pin as well as impact and drop safety features according to TR and AC225/D14 counteract unintentional discharge – and thus ensure more safety on duty. The firing pin energy of the SFP9 corresponds to the high level of hammer pistols. In addition, the stripping process ensures the highest level of disassembly safety thanks to a mechanically forced course of action. After removing the magazine, the slide is locked in the slide release position. Moving the slide to this position automatically ejects any cartridge that may remain in the chamber. The disassembly lever is swivelled downward by 90°. When the slide assembly group is pulled off, the firing pin is not cocked. This eliminates the need for ensuring additional safety by pulling the trigger, as is required with similar pistol models.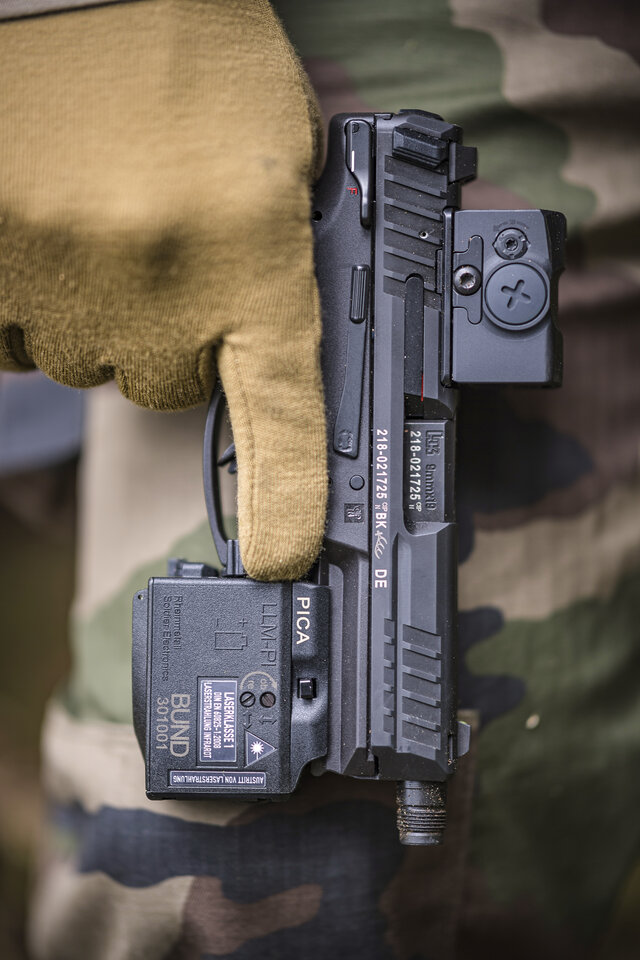 SFP9 - Unique. Versatile. Individual.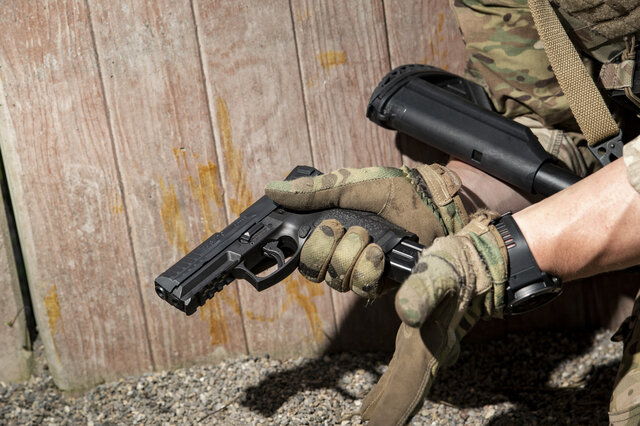 Customisable grip ergonomics for ideal handling
Users notice immediately whether a pistol functions perfectly and fits optimally in the hand. The ergonomic and patented grip design of the SFP is not only functional but also unique worldwide, as the grip volume can be individually adjusted to fit almost any hand size. The changeable grip shells and back straps, which can be freely combined with each other, ensure the highest degree of ergonomics – tailor-made for every hand. Slide release and paddle or push-button magazine release always remain easily accessible. The firing pin lock design of the SFP9 reduces the distance between the barrel bore axis and the crook of the thumb. This enables consistently precise sight pictures with rapid fire sequences. The grip angle was configured for an ideal hand position.
Technical specifications
Precision at a glance.
Operating principle
Recoil-operated
Bolt system
Modified Browning bolt group
Barrel profile/Twist
Hexagonal / right-hand
Sights
Open square sight with contrast dots (self-illuminating)
Magazine capacity
15 / 17 / 20 cartridges
Trigger system
Single Action (SA)
Trigger pull TR (Techn. Specifications)
30+5 N
Trigger pull SF (Special Forces)
22+5 N
Trigger travel / Return travel (reset travel) TR
11 mm / 5 mm
Trigger travel / Return travel (reset travel) SF
6 mm / 3 mm
Muzzle velocity (Ammunition: RUAG Ammotec (SX) Sintox Standard)
360 m/s
Muzzle velocity (Ammunition: Police deployment ammunition Action 4 )
415 m/s
Muzzle energy (Ammunition: RUAG Ammotec (SX) Sintox Standard)
518 J
Muzzle energy (Ammunition: Police deployment ammunition Action 4 )
525 J
Values rounded. Dimensions and weights may vary depending on the configuration. Subject to technical changes.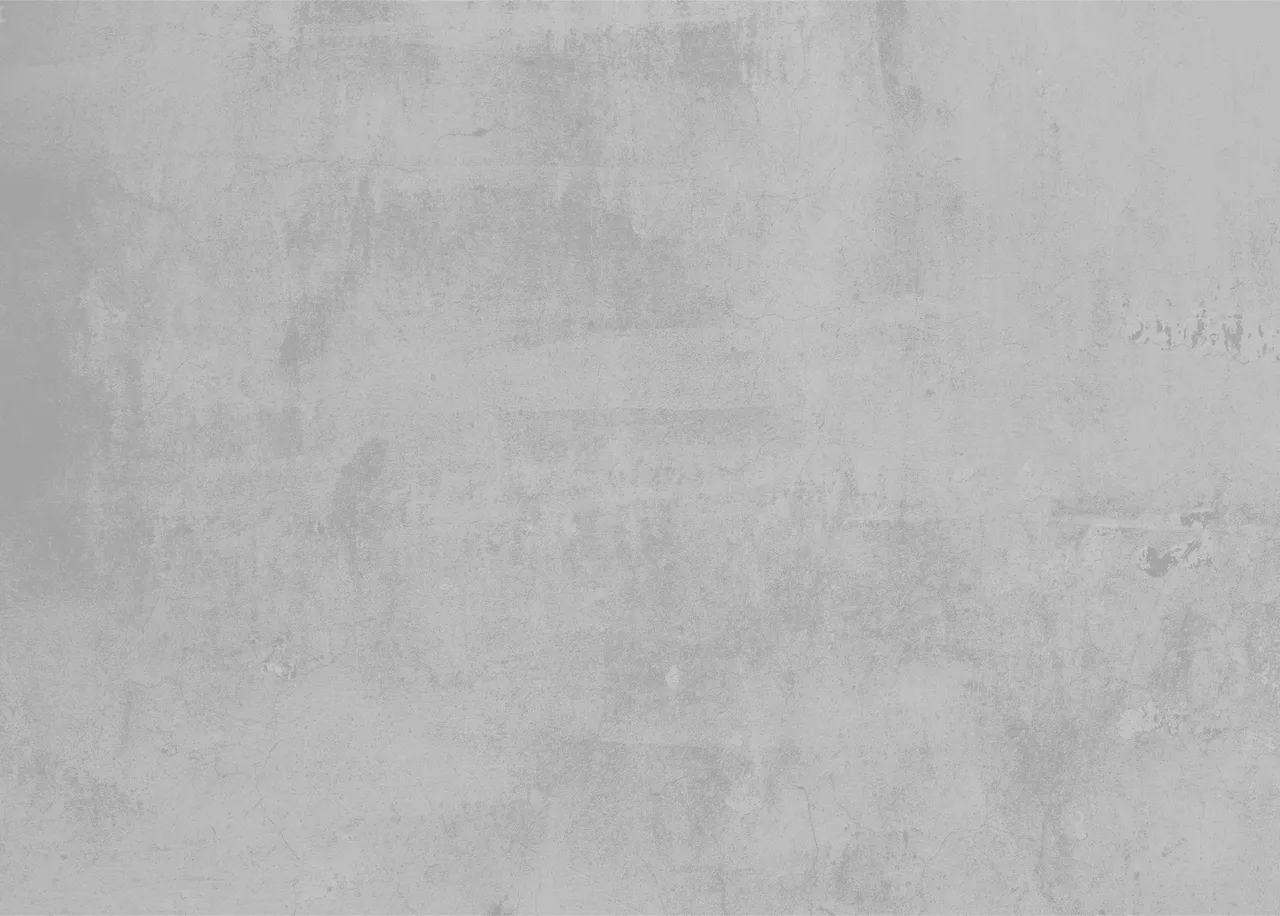 Suitable
For any mission requirement. The variants of the SFP9 product family.
Made for Safety
We want people to be able to live safely. Our products are designed to protect people in free democratic countries from threats and violence. Heckler & Koch is the leading manufacturer of small arms for NATO and EU countries.