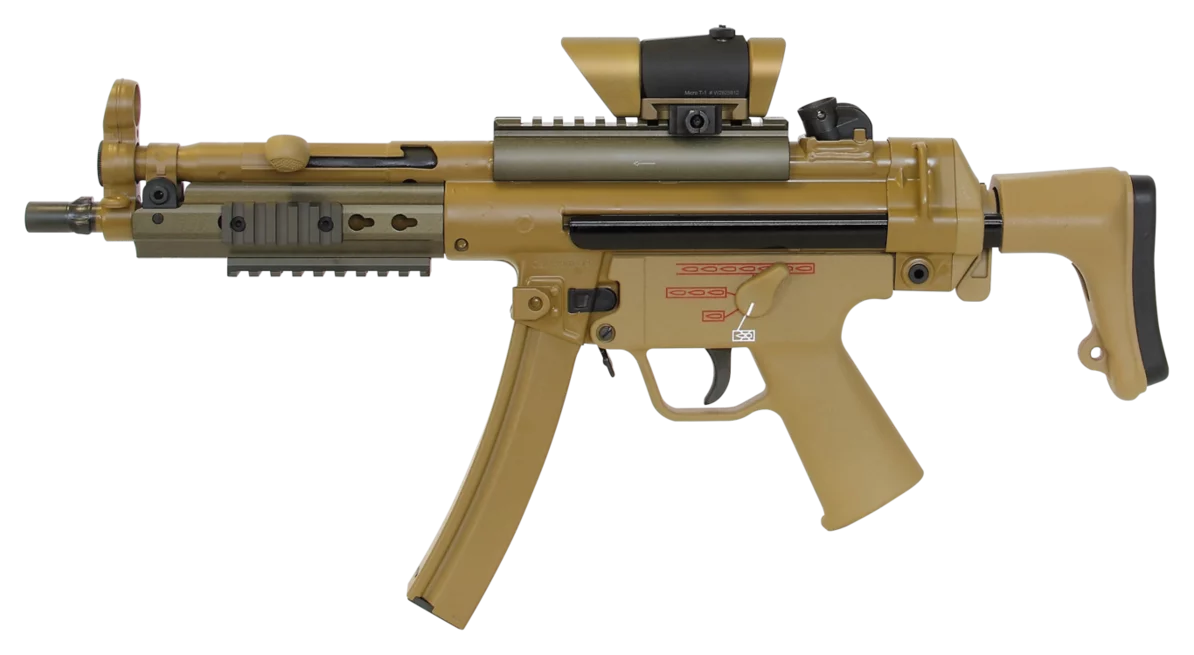 MP5
The world's most popular submachine gun
The best technology
Heckler & Koch for Military & Law Enforcement
Magazine capacity 30 cartridges
MP5
Solid down to the last detail
Technically identical, different in character
The main variants MP5, MP5 SD and MP5 K in their respective individual configurations show what classic submachine guns in calibre 9 mm x 19 can deliver today. The MP5 is primarily aimed at police units and first response forces engaging area targets. Easy to handle, easy to control and uncompromisingly precise in an emergency. The MP5 SD, on the other hand, fulfils the weaponry requirements of specialised forces and selected special units. What distinguishes it from all submachine guns available on the market, however, is its special weapon barrel with integrated silencer. Where other submachine guns have to use special subsonic ammunition for silenced use, the MP5 SD fires supersonic ammunition in the subsonic range (<340 m/s). It is also one of the most precise silenced submachine guns in its class. As the most compact submachine gun in the MP5 family, the MP5 K is designed primarily for special forces and bodyguards. Effective in close-range defence and built so compactly that it can easily be carried concealed on the body.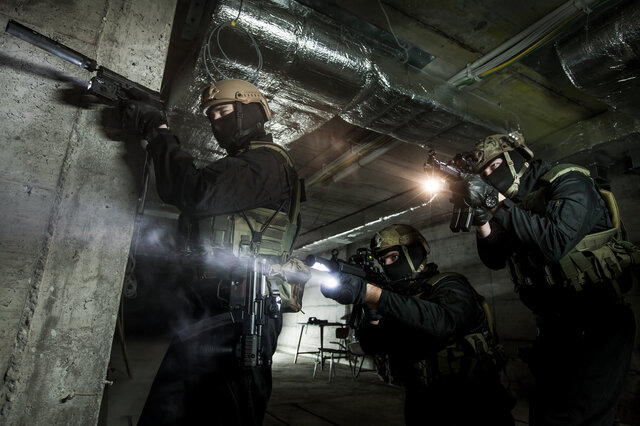 MP5 - The world's most popular submachine gun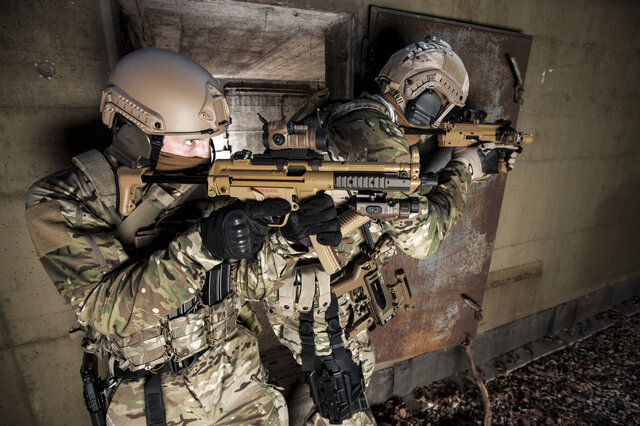 Even more MP5 with the MP5 mid-life improvement
Concluding from the increasing danger of amok and terrorist situations, effective measures were taken with the mid-life improvement of the MP5, which on the one hand take logistical and economic aspects into account, and on the other hand fulfil the tactical parameters required on the weapons side. The collapsible buttstock has been reinforced and equipped with three locking positions. This allows the MP5 MLI to be optimally adjusted to body armour or multi-purpose vests. The modern and slim HKey handguard replaces the conventional BMI polymer handguard, as the in-house HKey keyhole attachment system offers the best possible repeatability for mounted laser light modules in test comparisons. For the use of reflex sights suitable for night vision goggles, the MP5 MLI is equipped with a self-aligning STANAG 4694 clamping profile rail. Particularly cost-effective and logistically attractive: Suitable MLI components can be retrofitted to any MP5 model.
Technical specifications
Precision at a glance.
Operating principle
Recoil-operated
Bolt system
Moveable roller-delayed blowback
Cartridge case ejection
Right
Modes of fire
Single fire / 2-round burst / 3-round burst / sustained fire
Barrel profile/Twist
Groove/land profile, 6 grooves, right-hand twist
Magazine capacity
15 / 30 cartridges
Values rounded. Dimensions and weights may vary depending on the configuration. Subject to technical changes.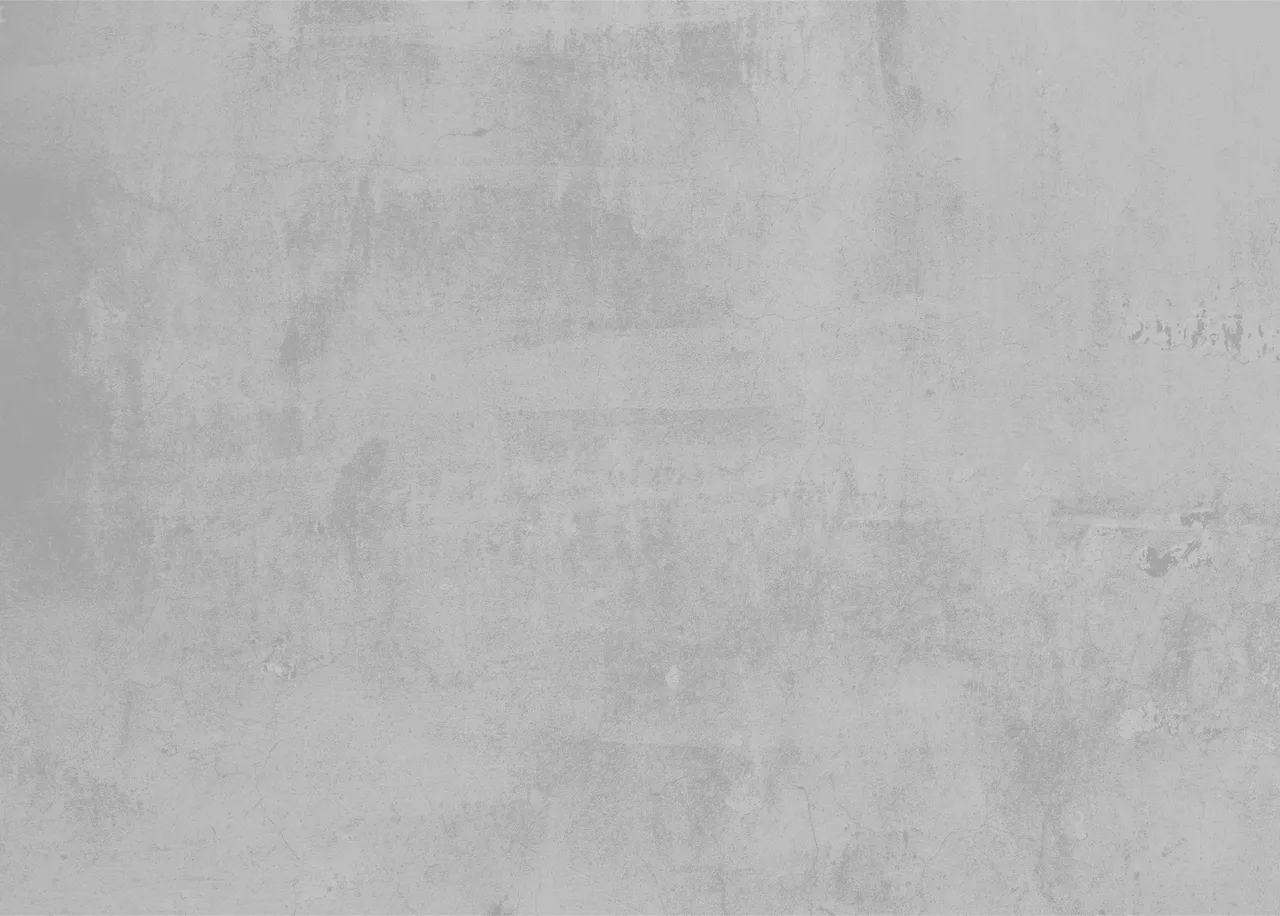 Suitable
For any mission requirement. The variants of the MP5 product family.
Made for Safety
We want people to be able to live safely. Our products are designed to protect people in free democratic countries from threats and violence. Heckler & Koch is the leading manufacturer of small arms for NATO and EU countries.